I'm proud to say that I won the Ocala Culinary Poster Competition with this concept.
Final art was due December 1st. The final painting was auctioned off and all proceeds went to MCA Ocala.
To know more about the festival go to http://www.ocalaculinaryfestival.com/
Here are some kinds words from the Ocala Culinary Festival about me.
"We are pleased to announce that artist Maggie Weakley has won the inaugural Ocala Culinary Festival Poster Contest! Stay tuned for details about the reception we are throwing to unveil the final work.
Thank you to all the artists and jurors who participated in the contest and thank you Marion Cultural Alliance for helping us organize this contest! We couldn't have done it without your guidance!
A little about Maggie:
She graduated Columbus College of Art and Design with a BFA degree in Illustration. She is the former Art Director for the Everyday Card Line at Shoebox Greetings, Hallmark Cards, Inc. She popped up on the local art scene in 1998 when she participated in the Marion Cultural Alliance Horse Fever public art project. Since then she has participated in countless exhibits and community art projects through the years. In 2000, she launched MaggiesAngels.com and has become known for her collection of whimsical colorful pet portraits. She also serves as the Administrative Coordinator for Fine Arts for Ocala. She is an illustrator, painter, art teacher and avid supporter of the arts that freelances for many private collectors and companies."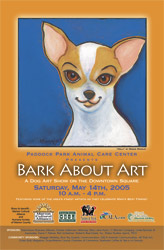 The Marion Cultural Alliance and the Marion County Humane Society put together a "Dog Art Show" called "Bark About Art" and asked my husband & I to create the Poster for the event. I created  "Holly" the Chihuahua, one of the organizer's dog as the mascot for the event. I had been working on my new company Maggie's Angels and this show will be a great opportunity to launch my pet portraits. Once I created the painting of Holly, my husband Kent, who is a Graphic Designer for his company Blue Sky Graphic Communications, Inc., designed the promotional poster featuring Holly. The portrait and poster drew a huge crowd for the inaugural dog art festival held in downtown Ocala. It was a great event with profits going to Marion Cultural Alliance and the Marion County Humane Society.
show