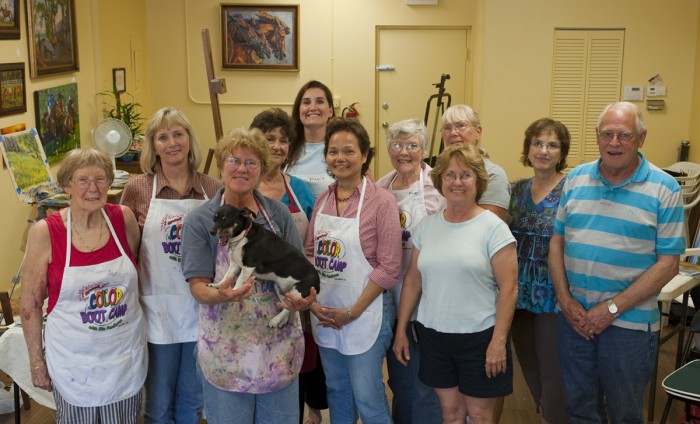 Day 5 of Elin's workshop was all about Skies and Back Lighting. My Husband Kent, was kind enough to drop by VoilArt gallery and snap a picture of all of us. It was a wonderful group of artists ranging from beginners to professionals and I have to say we all had a great time.
Being inspired by the night before were Jackie Schindehette took Elin canoeing on the Silver River for a great adventure, according to them, were Elin ended up poking a gator with her ore and getting baptized by the gator with mud & gator poop, and experiencing the river at night as they canoed back in dark, the stories were great! Elin certainly got to experience our beautiful clear river & all the splendors it has so it was appropriate that she would paint what she saw on her last day in Ocala.
She used a picture from a Florida book and I let her use one of my husband's photographs of an Egret that was backlit. Below you can see her working with oils and how she lays down the paint, sketching it out and blocking in the colors. She kept all the cool colors in the background and the warm ones in the foreground. You can see her finish piece and her explanation here one her Blog;http://elinpendleton.blogspot.com/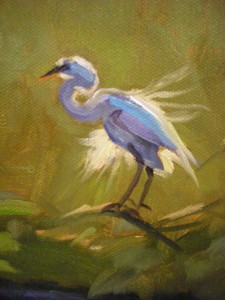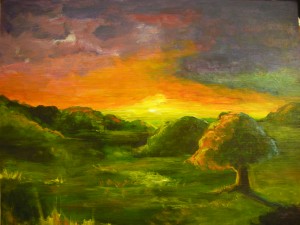 I had an off day today, I started painting a cheetah cub that was backlit and soon realized that it was not going to work. The photo I was using did not have all the information I needed & I just was not feeling it. So I started over & I painted this tree scene in the above picture, in about 20 min. Its not great & its just a start,  but for 20 min, its not horrible. While  I was working on this, Elin was reviewing and doing a critique of everyone's work for the week, one artist at a time. In the picture below you can see all the painting I created for the week, the good and the bad. Elin asked each of us what we learned, what will we take away from the workshop, and how we would apply what we learned to our work.
For me, this workshop was a refresher course on color. My work is whimsical and colorful, and my strength is capturing expressions and conveying them on animals. Color is a strong suit for me and even in the large paintings I've been creating, the color I use is Bold and full of movement.
This workshop was the opposite of what I do on a daily basis, and I loved it. I had to paint realistically which I have not done in years, but even in my best efforts to create realisms, my whimsy style shined through. We all have certain styles that set us apart from all the other artists on this earth, its a quality that is hard to find within us, but once you do, don't loose it. I took this workshop because I love Elin's style, her brushwork,  her color sense and the way she paints horses. I also took it because I knew some of the artists that were attending the workshop which included Margaret Watts, Nancy Moskovitz and Elaine Trice. I believe if you paint along side great artists you will always learn something, and I did. I also had a blast with everyone there, specially Elaine cause we sat next to each other.
What I will take and use from taking this workshop is The Pill Boxes- I loved using them to organize the paints. Using one box for cool colors and another for warm colors is really effective, plus the acrylics stay wet. I will definitely use them again and the color system, when I'm working on my larger paintings. I'm currently working on a large piece that has two horses in a forrest scene with backlighting and maybe I'll even include a stunning sky. I'm excited to start it. I have it drawn out, but I must finish the commission paintings I am currently working on before I start that one. Also, I will pay attention to the colors I chose when painting light, keeping in mind the color system because it makes for a dramatic painting.
You might be wondering if Elin's Color System applies to my portraits? Well, in my particular case not really, just because I don't use any main light sources in my portraits. Most of the photographs I get are snapshots that my clients have taken of their pets and they are usually done in flat light. The main thing I will take away from Elin is how she has changed the way I see each individual color, the temperature it has and how my eyes see it. I'm very happy with what I've learned and the new friends I've made 🙂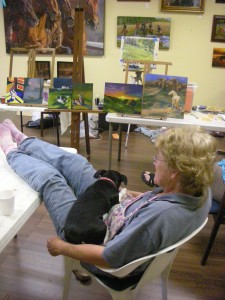 show