Day 4 of Elin's workshop was full of Vibrant colors. The theme was to add chroma, and be Bold!
We painted sunsets or evening light. Above is a picture of Elin using and old postcard of a Florida landscape and making it her own. For this time of day, we are looking for DRAMA! Strong lights and darks or values, and rich colors. We add Cadmium Orange to just about everything, and a purple-ish hue to the shadow areas. The oranges and purples love each other because the are complimentary colors and the sing together making for dramatic and rich paintings. She added some grays to the sky so when she added the oranges it became even more dramatic, as you can see below in her finished piece.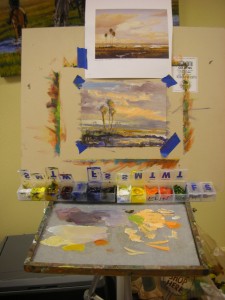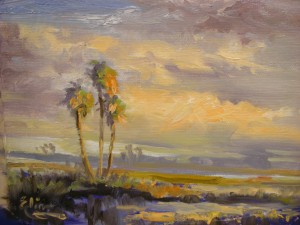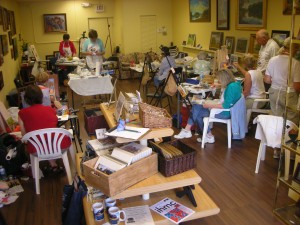 The 5″x7″ Palm Tree painting  was created by Elin in about 20 minutes, yes 20 minutes. Just amazing how she can quickly put down a scene rich in color, value, composition and drama.
Above we all our trying to capture a moment in a day. By the way we are still using the Color System, the same 14 colors that we've been using this whole week. Its incredible!
I also have to tell you that I'm in love with working with the paints being in the pill boxes. My Acrylics have stayed wet for 4 days, can you imagine how much money I will save, as long as you mist them with a spray bottle while you work and then when you are done painting for the day, wrap them in a wet paper towel and slip them in a Ziplock bag. Brilliant!
So, here is what I painted today. My 13 year old son Max, upon seeing me gathering photos for the workshop, asked me if I would like some of his pictures to use. He is like his father in that photography is his gift, but instead of photographing landscapes like his father, he loves to photograph wild life- he gets that from me. He is a little bit of both of us, & I love it!
So he tells me this is a Waterbuck, I looked it up to make sure & it is. He knows his animals, he has been reading animal encyclopedias since he was 2 years old.
I began the painting by doing a purple wash over the canvas to knock out the white. Then I sketch out the Waterbuck with a deeper purple keeping in mind placement and composition.
I began putting down the background using the colors from my cool box and as I got closer to the foreground I introduced the colors in the warm box. Making sure I added Cadmium Orange to my lights as well as some of my shadows, and keeping all my shadows cool using Ultramarine Blue with Alizarin Crimson and a touch of White all from the cool box. I kept blocking in shapes and forms adjusting and balancing the colors.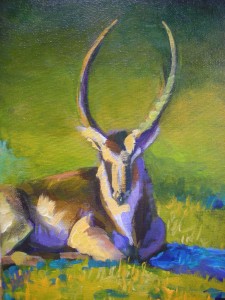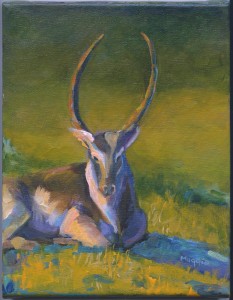 When Elin came by to see what I was doing she immediately took the painting from safe to BOLD by putting teals into the shadows and intensifying my lights with oranges. This photo does not do the colors justice because in person it is very rich. Its not done yet, but for an hour and a half I'm happy with how far I got today. I think I'm going to leave it loose and maybe just tweak it a little bit more, what do you think?
We had our daily critiques and its neat to see everyones pieces, a lot of talented folks here.
Below is sweet Sparky, he lays in his little doughnut bed all day, perfectly behaved.
The painting on the right is an example of moon light (again the photo does not do this painting justice)
I'm proud to say this 5″x7″ little gem is mine! I bought it and I could not be more thrilled, I will treasure it!!!!

Last but certainly not least is Max & I, two artists showcasing their work. By the way, he wants the painting and its a joy for me to give it to him. I am using another of his photographs, a baby Cheetah, tomorrow for the back light painting. I hope I can do it justice and he can have that one as well to hang together in his room.
Hope you tune in tomorrow to see what we do. Thanks to all of you that have been leaving comments, I appreciate you taking this journey with me 🙂
By the way the gorgeous Paintings of Horses you see as our backdrop is Sharon Crute's artwork, please check out her paintings here http://www.sharoncrute.com/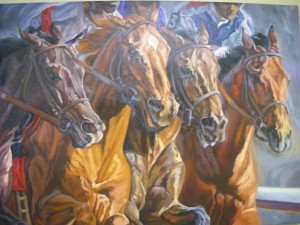 On the opposite side of the Gallery wall we had

Jackie Schindehette

paintings, she creates beautiful Florida Landscapes. It was an inspiration to have both of these artist works around us. You can see see more of JAckie's work at

http://www.floridalandscapes.com/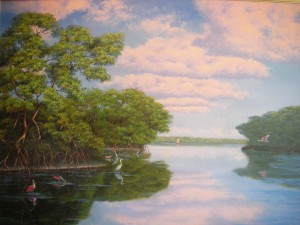 show