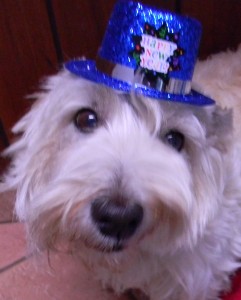 Happy New Year
Everyone!!!!!!
 It's the New Year with new resolutions and a lot of new ideas. One of my goals is to Blog more often.
My Blogs will not only consist of sharing with you what I'm currently working on,
but also some tips & lessons on the art biz world, and the techniques I use.
 The picture on the left is of my Aussie Sky and my Westie Angel ringing in the New year in style ;D
"The biggest adventure you can take is to live the life of your dreams."
Oprah Winfrey