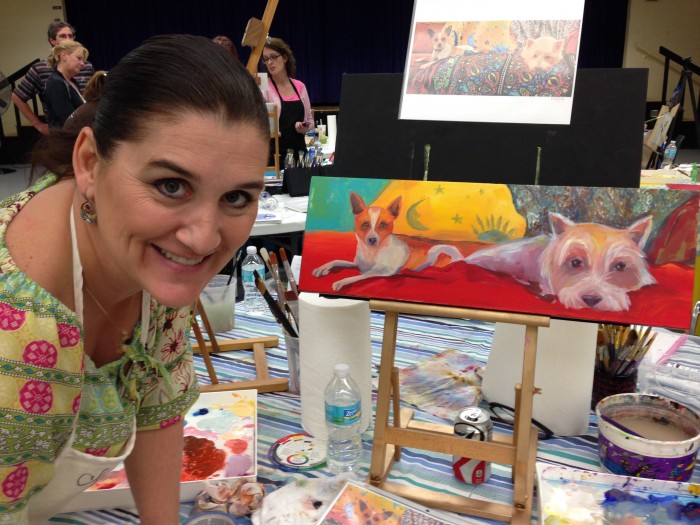 Custom Art Classes
All the art classes that I teach are custom made to fill your needs or your child's needs.
We can start with the basics or jump right into a painting and learn as we create.
Its all based on how you like to learn, and we figure that out in our 1st meeting.
I can teach you how to paint in:
Acrylic Paints
Watercolor
Pen & Ink
Pen & Ink on Animation Cell with Acrylics
Mixed Media
Paper Painting
Black & White Graphite
One on One Lessons:
Personal Drawing, and Painting lessons that are tailored made for You.
Whatever you want to learn, in whatever medium you like, I am here to teach you.
Classes can be held in your home,  my studio or a designated location.
Prices:
2 hour lessons- $70
4 hour Lessons $90
I supply the materials
Mommy & Me Lessons: 
Are you and your child wanting to be creative together?
Let me help you create some artwork that you can both do together.
Maybe even create paintings to decorate a room in your home.
This is an experience that focuses on the development of your child and your relationship.
We will decide on the painting you want to work on and the parents or adult (it can be a Grandma or Aunt etc.) can create a painting along side their child or work on one together using different mediums and materials.
Call me and we'll get started.
Prices:
1 hour painting lesson $40
I supply the materials
Group Lessons:
We must have a minimum of 3 people and a maximum of 15 people.
Classes can be held in your home, or a designated location.
I can create a class that is tailored made for you and your group.
I supply the materials, drop cloths & clean up.
There are 2 options for the Group Painting Lessons;
1) The students can all paint the same subject matter, I will have a variety of paintings to choose from.
2) The students all create different paintings but they are all using the same art material which we will pick before hand, and I can teach you techniques using that art material of choice.
Prices:
2 hour everyone creates same painting $30 a person
4 hour everyone creates same painting $60 a person
Clubs, Parties, or Organizations:
Are you looking for a fun Party Experience~
Are you having a Birthday Party, a Girls Night Out, a Baby Shower, a Bridal Shower, or any kind of party/ event you can think off,  make it even more special & memorable by having me create a Custom Themed Painting for your party that everyone will create and keep. Plus, we'll have a blast doing it. Talk about a great Party Favor!
I can also come into Nursing Homes, Day Cares, Home School Groups or Companies and design Painting and/or activities that will inspire, unite and teach everyone while having a great time.
Prices:
2 hour everyone creates same painting $30 a person
4 hour everyone creates same painting $60 a person
Materials are included
Murals:
Looking to Custom Decorate a Room.
Do you have a wall, space or furniture that you want to be transformed with a custom made painting.
Contact me and we'll design it together.
My rate is $20 an hour. The final cost depends on the simplicity or complexity of the design.
Here is my contact information:
Maggie Weakley
cell: 352-615-4629
email: callmaggie@yahoo.com
 Call Me!!!
Day 3 of Elin's Color Boot Camp brought the use of both warm & cool colors in one painting emphasizing in composition & values. We started the day with a one hour lecture showcasing great Masterpieces and evaluating the value system these great masters created. Its great to see work that we love and know well with a different eye, by squinting you can see the lights, darks & middle tones and what that does for the paintings.
The time of day we painted today was High Noon. We picked photos that had good contrast and shadows that were beneath the subject. The neat thing is that Elin is teaching us that if you don't have a great picture you can adjust and manipulate it to the time of day you want to paint. Here she illustrates that perfectly. The left photo above is the picture she will be using and its on her computer. She is only using it as a guide, but you can see how she is changing it to make it more interesting and dynamic. She started with a watered down wash of acrylic Burnt Siena, and is drawing it in with a more opaque  tone, she is continually adjusting the drawing, by "erasing" the background using water, and pulling the wash out.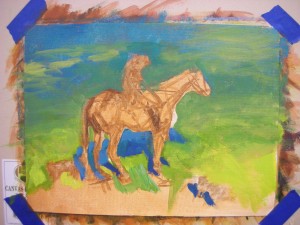 She begins blocking out the shapes using  intense colors and keeps adjusting it as the painting progresses keeping in mind her Color System. She has not finished the piece yet, but its stunning as is, don't you think?
She is doing this demo as we paint, and on occassion spills treasures of wisdom that we all listen intently. She is very open to questions and is fabulous at explaining why & how the color system works. I wanted to show you her palette below, the pill boxes are a fabulous way to keep your main colors wet, while you pull from them & mix on your palette.
Above is a nice picture of Elin Sparky & me, sitting on the couch that I've cemented & made myself at home in 😉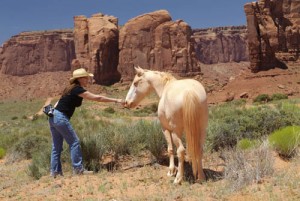 The picture I chose to represent High Noon is of when we went to Monument Valley, in Arizona. We came across a herd of wild horses (I'm sure they have some contact with humans) but they were holding their ground & grazing from this very rough terrain. While my husband, Kent, was photographing the herd and this Palomino's foal, I saw an opportunity to go up to this mare Palomino that was grazing on her own  off to the side of the herd. I rounded my shoulders showed the back of my hand and slowly went up to her, I gently reached for her and she allowed me to touch her nose. All the other horses watched in frozen horror as I made contact with this mare. She was stunning with light golden eyes. It was a moment I treasure every day & thank goodness my husband was able to capture that precise moment of contact, because a second later the whole herd moved on into the gorgeous scenery.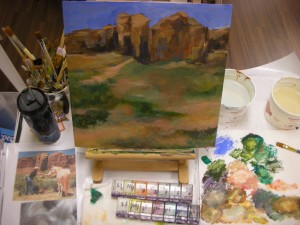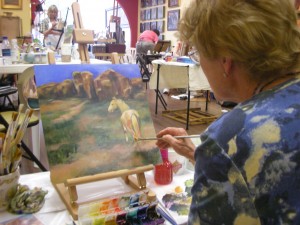 I started by painting in the scenery first. and then added the Palomino. I'm just starting to paint horses, so I had some issues with the anatomy, specially since the horse is at a foreshortening angle, so I made it even tougher on myself. So I sent an SOS to Elin, and in the above picture you can see what my horse looked like and the pictures below are the fixes that Elin helped me with. Its an honor & a joy to watch her paint on my piece. I learned so much from watching. Its amazing how she lays the paint down, so sure of her color choice & brush strokes. That is what years of practice brings to you.
The painting is not done, but when she walked away I thought to myself  "I'm not touching or painting over anything she painted, to me this painting is done!"
When I come home I was exhausted, its been a lot of information, all great but a lot to process. I would love to kick back and take it all in & relax, but today I had to run to the grocery store before I got home, feed all the animals, then make dinner, clean up, help with the kids spelling words, and then check emails before I write the post. I keep hoping to post earlier but when you have kids they come first. My husband is so supportive taking on some of the daily tasks I have to do, but now if I could only convince him into cleaning the stalls, hummm  ;D
Tomorrow in the morning we are painting Sunset or Evening Light and  in the afternoon we are tackling subjects with back light. Should be challenging. I've never painted with the specific time of day, so its exciting to break it down & study how light and color influence each other.
Today was a rainy overcast day, and on my drive home I saw the misty overcast colors that we learned on Monday's lesson and I could see the colors & how I would mix them to make the trees in the distance look like this weather. Oh! Elin's Color System is cementing itself in my head… and I like it  😉
Please leave me a comment and let me know what you think. Thanks and I hope you come back tomorrow!
To see Elin Pendleton's Work please check this out:
Elin Pendleton, AAEA, WAOW, EAG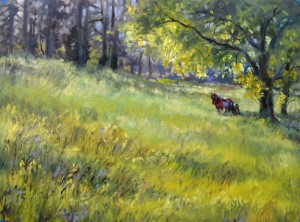 Day 2 of Elin Pendleton's Color Boot camp brought a lot of information. Elin explained in detail the Color  System and why & how it works. Fascinating that you can use 7 cool colors & 7 warm colors to make all the colors you will ever need.
Our 1st assignment was to paint a Moon light painting & I have to say that was hard for me & I feel I had no success in it. I will definitely be redoing that pice.
The second Painting was of a sun light filled day. Here is Elin's example. She painted as she lectured & you can see the start on the left & the finished piece on the right. Just beautiful, using mostly the warm color palette & the cool palette for the shadows & distance.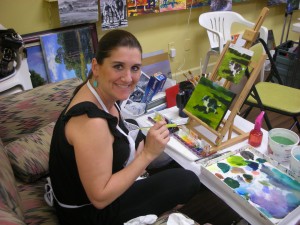 Here I am in the mists of painting my sun light painting. I chose an Aussie, of corse had to be a dog, and pushed those lights & darks. Below you can see the source photo, the painting & a black & white photo. I used this to check if the values were correct. I needed to make a few adjustments, & as Elin recommended, I added purples to the shadows to make them recede. You can see the final piece at the very end of this blog.
She gives us about one an a half hours to complete a piece, so we have to paint fast. About 3:30pm we finish up, & we all talk about & critique the paintings.
We learn a lot from each other.


Another full day!
Tune in tomorrow for day 3  🙂
To see Elin Pendleton's Work please check this out:
Elin Pendleton, AAEA, WAOW, EAG
show