Tag: Elizabeth St. Hilare Nelson
My Friend Elizabeth St. Hilare Nelson told me about this great Community Project that she was participating in called Paint the Trail, and invited me to join in. So my husband Kent (who did an amazing time lapse video- click on his name to see it) &  I went to Orlando to pick up some fence panels to paint.
Jeff is the Mastermind behind this wonderful project that has really taken off his motto is "Bringing the community together along the Seminole County Trail through artwork."
Check out his FB page here https://www.facebook.com/painttheseminoletrail?fref=ts so you can see what wonderful art is being created.
If you want to see a terrific interview with Jeff check him out he was in the news on myfoxorlando.com
He has gotten a lot of fabulous media, and the project has really taken off. We are honored to be a part of this and we are probably going to do a few more panels. Its fun and enjoyed by so many.
If you want to participate in this project and paint a fence panel contact Jeff.
You can paint your own design, or if you are not an artist, but want to paint one, he will give you a panel that has the drawing on it color coded it (like a paint by numbers) and you can do one too.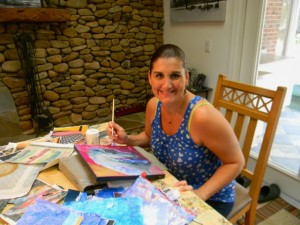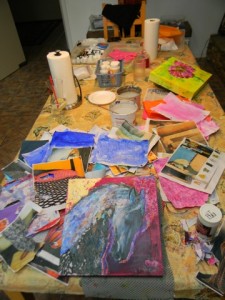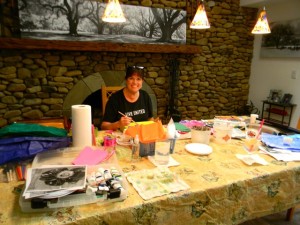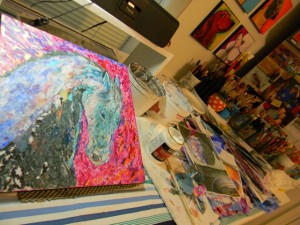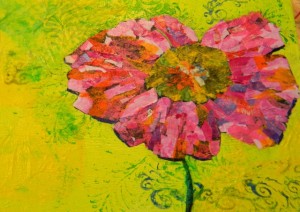 My girlfriend Julie introduced me to a wonderful artist named Elizabeth St. Hilare Nelson, please go to her site so you can see the fabulous paintings she creates. She also has a wonderful blog, Paper Paintings. Julie bought her DVD and after we watched it, we decided we would have a paper painting party.
To get started you have to create your own papers because they will become your medium. I decided to paint my image first so I would know the palette~ colors & textures~ I would need.  Then I gathered printer paper, notebook paper & graph paper and went to town painting them with acrylics, you can use any kind of papers you like.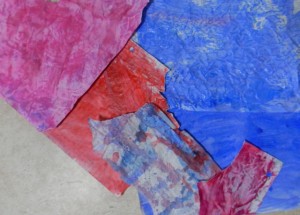 I layerd colors, splattered paint & dry brushed them. I also wanted to have different patterns, I love how Elizabeth St. Hilare Nelson incorporates patterns, stamps and all kinds of cool things into her pieces, but I did not have the time & didn't want to spend the money to go look for special papers. So I decided to use what I already have. Since this was experimental playtime I wanted to keep it simple, I have  a ton of files that I keep as inspiration, we call them Morgue files, and one of my files is dedicated to patterns. I wanted to keep my original clippings so I decided to photo copy, in my laser printer, the patterns that had similar colors & textures that I was looking for.  Since I know that if I apply any sort of medium or water to  laser copies they will bleed or smear, I seal them by  filling my spray bottle with a mixture of Clear Gesso & Water & sprayed it on the copies. As you can see from the photos above it created all kinds of wonderful textures & colors plus the paper was now sealed. We also gathered colored tissue papers, ribbons, stamps, gold leaf, and all kinds of other things, but I only ended up using the papers that I had painted.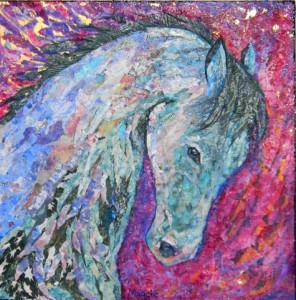 To glue everything down I used Liquitex Gloss Super Heavy Gel because that is what I had and it was similar to what Elizabeth uses. I recommend you getting her DVD for more detail information on doing this technique, it is excellent!
Julie came over on a Saturday morning and we painted from 10am-4:30pm. We had so much fun talking, tearing paper & pasting it down. I have to be honest, when I was creating the papers I thought~ this is a lot of work & I and I don't even know if I'm going to enjoy this technique, but to tell you the truth once we started creating I found it to be very therapeutic. It is so different from what I do daily that it was like a taking a creative vacation. I loved doing it & I think I will be incorporating some of the papers I painted into my pieces, but I probably will not do final pieces all in paper, because I love using my brushes & paints too much.
In the photos above you can see Julie & I spread out on my kitchen table, the papers I painted and our final pieces. She created a beautiful flower and I created a horse which I named "Soul Seeker". I embedded the words; Soul, Harmony, Love, Blessed & Believe, hidden within the textures. I also added specks of Gold Leaf into it which gave it a little extra sparkle. For my very 1st try, I really love how it turned out.
I've been experimenting a lot these days. Work is slow, and instead of worrying about it I am playing with ideas, mediums and textures. I have to say I'm having a ton of fun doing it too. Its terrific to get out of our comfort zones & try new things, because you never know if a spark of creativity will get lit. Hope you find some time to play because its marvelous for our souls 😀
show