Category: Charitable Work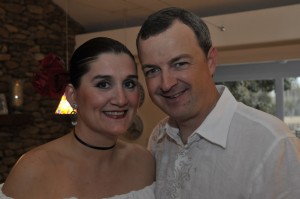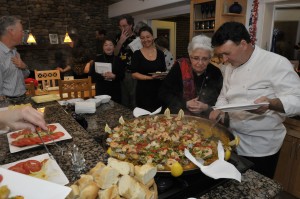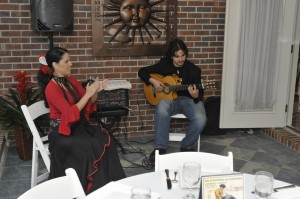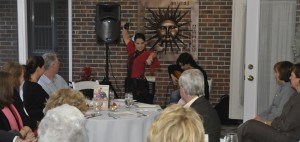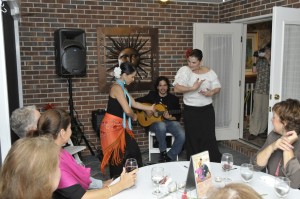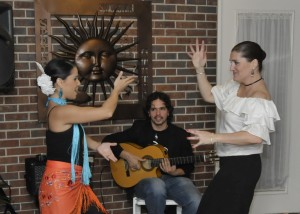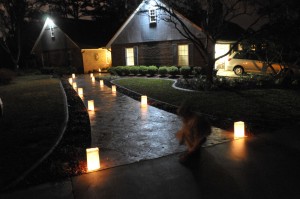 O

n Sunday February 15th my husband and I hosted a party we called "A Night in Spain"
We belong to a charitable group called

"The Salon Group"

". This wonderful group raises money for Scholarships for Seniors in High School who want to go into the field of Art. We gave away $30,000 this year to 4 very lucky teens. It is an amazing group of people that I feel honored to be around. If you would like to see previous years winners please

click here

. I will post this years winners when the information gets on the web.
Our group gets together at a different members house every month to celebrate art with wonderful food and entertainment. This month it was our turn to have the party. I wanted to showcase my wonderful Spanish culture. My Parents were there to celebrate and helped make this evening special as they charmed everyone and even danced to the wonderful Flamenco music.
We had the privilege of having Juan Olea as our chef, his food is just incredible. We started the night with a variety of Tapas and it lead to an incredible Paella full of seafood and chicken, it was not only visually stunning, but our taste buds could not get enough of it. It was perfect! For desert there were these cakes called the "San Marcos" that were to die for, creamy moist and oh so decadent! All night we served Sangria, Red and white Spanish wines and Cerbeza Estrella (spanish beer). Carmen del Corral, Olea's wife, helped us serve and kept everything moving seamslessly. It was truly delectiable!
Omar Miguel, "El Niño de la Isla" played the Flamenco guitar. He is truly an amazing talent! The flavor, the feeling and the  technique of his talent mesmerized everyone. He played all night capturing the flavor of Spain by filling the house with music. You can see and hear his talent at his website, 

http://www.omarmiguel.com
Along with Omar, we had a Flamenco Dancer named Eli, also known as "La Salerita". She brought some heat to this fiesta. She danced in the traditional Flamenco style, adding the spice that only a Flamenco dancer knows how to do well. She even coaxed me into doing a little dance. I did my best, but I doubt I'll be staring on Dancing with the Stars  😉
The party turned out fabulous, a good time had by all!
And even making it more special, my boys surprised me by lining our entree way with Luminaries. Creating a magical ADIOS!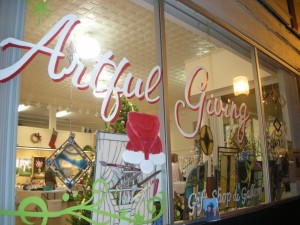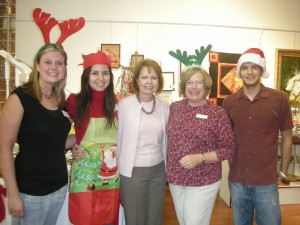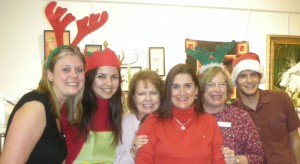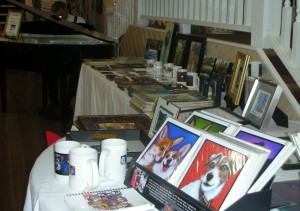 Artful Giving is a wonderful event that transforms the Marion Cultural Alliance (MCA) into a Christmas boutique. This is the second year MCA brings unique, affordable gifts handcrafted by local artists to the Brick City Center for the Arts.
We had so much fun celebrating the grand opening. There was wonderful Christmas music, refreshments and of course a lot of art ranging in prices that brought a smile to all the holiday shoppers. So, from Nov. 18 through Dec. 23 drop by, and get anything from Christmas trinkets, ornaments, to Ocala/Marion County-themed creations. Your purchase benefits our local artists and the work of MCA. You can see a variety of my work there too.

If you drop by be sure to meet the fantastic people that keep MCA filled with holiday cheer. From left to right on the above pictures is Debby Miller, Barbra Hernandez, Jessica McCune, yours truly, Nancy Ledding and Rob Bushfield.
Hope to see you there! Merry Christmas!!!!
I

received this message from Sylvia Richardson;
"I am a big fan of yours. I first learned about your terrific work when you were featured in Ocala Style Magazine. I teach art at Belleview High School and introduced my students to your delightful work. Some tried to do portraits of their dogs using your style. I was reminded again of your work yesterday when I visited a friend in the emergency room at Munroe Hospital. One of your dog portraits hung read more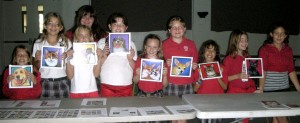 Here is Girl Scout Troop 486 holding up some M. A. Prints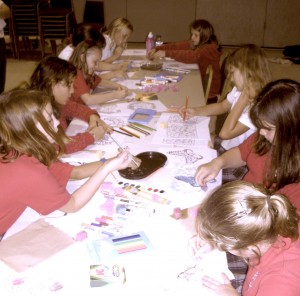 Experimenting with three types of art materials
   On Oct. 10, I had the privilege to be invited as guest speaker for the Girl Scout Troop 486. They were working on their Art merit badge and the theme was "Women who paint".

   I spoke about how I became involved in the arts and what I had to do to achieve my success. I brought in some samples from my Shoebox Greeting Cards, some original paintings, and lots of my dog and cat prints which the girls shrieked with excitement as they hugged them with love. It was so much fun to see how much joy my happy little Angels brought to these girls. They asked many terrific questions and I even saw some future artists in the making.

   After my presentation, the girls learned about Primary and Secondary colors, the use of different lines and techniques, values, shapes and color moods. Then they all were handed out three pictures, that were identical, and they had to paint them using three different mediums while applying the information they just learned. I gave out some pointers and watched them use their wonderful creativity.

   Lastly, the girls hung their finished works on long clotheslines for an art show and review. We discussed the variety of mediums used, the line work, borders and colors that each girl expressed. It was great fun and it was an honor to be there.
   Here is another Marion Cultural Alliance and Humane Society of Marion County fundraising project that I participated in that featured my Angels. Barkitecture was a terrific project were local Architects designed Dog Houses that would then be auctioned off to benefit these organizations. I helped create a house we called Cracker Hounds. Paddock Park Animal Care Center sponsored it, Schatt Construction, Inc. built it, and I added my Angels to it.    It was a wonderful collaboration, that turned out great, did really well at auction, and a wonderful couple took it home to their little Angels. Scroll down Dogtownflorida.com to see more details of our Dog House. You can also see some pictures of the auction which was held at Custom Window System in Ocala.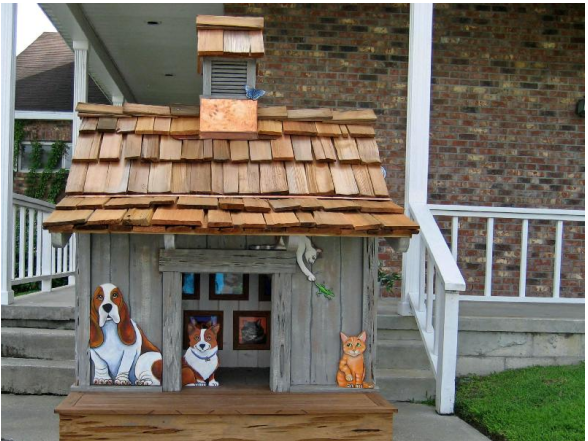 show