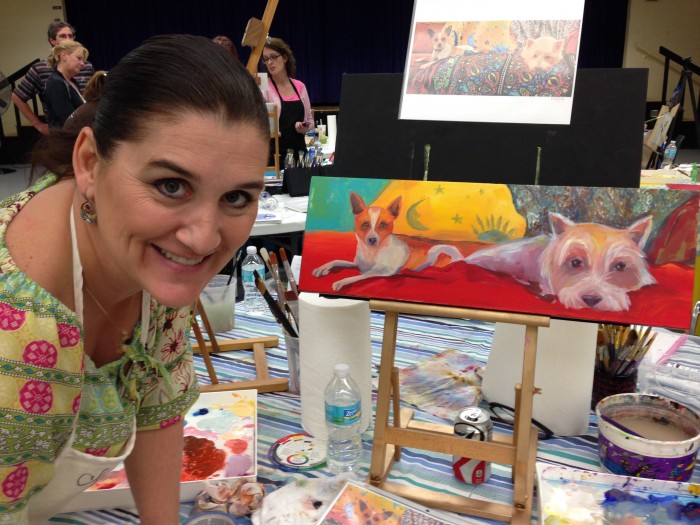 Custom Art Classes
All the art classes that I teach are custom made to fill your needs or your child's needs. We can start with the basics or jump right into a painting and learn as we create. It's all based on how you like to learn, and we figure that out in our 1st meeting.
I can teach you how to paint in:
Acrylic Paints
Watercolor
Pen & Ink
Pen & Ink on Animation Cell with Acrylics
Mixed Media
Paper Painting
Black & White Graphite
One on One Lessons:
Personal Drawing, and Painting lessons that are tailored made for You.
Whatever you want to learn, in whatever medium you like, I am here to teach you.
Classes can be held in your home,  my studio or a designated location.
Prices:
2 hour lessons- $70
4 hour Lessons $90
I supply the materials
Mommy & Me Lessons: 
Are you and your child wanting to be creative together?
Let me help you create some artwork that you can both do together. Maybe even create paintings to decorate a room in your home. This is an experience that focuses on the development of your child and your relationship.
We will decide on the painting you want to work on and the parents or adult (it can be a Grandma or Aunt etc.) can create a painting along side their child or work on one together using different mediums and materials.
Call me and we'll get started.
Prices:
1 hour painting lesson $40 (I supply the materials)
Group Lessons:
We must have a minimum of 3 people and a maximum of 15 people.
Classes can be held in your home, or a designated location.
I can create a class that is tailored made for you and your group.
I supply the materials, drop cloths & clean up.
There are 2 options for the Group Painting Lessons;
1) The students can all paint the same subject matter, I will have a variety of paintings to choose from.
2) The students all create different paintings but they are all using the same art material which we will pick before hand, and I can teach you techniques using that art material of choice.
Prices:
2 hour everyone creates same painting $30 a person
4 hour everyone creates same painting $60 a person
Clubs, Parties, or Organizations:
Are you looking for a fun Party Experience~
Are you having a Birthday Party, a Girls Night Out, a Baby Shower, a Bridal Shower, or any kind of party/ event you can think off,  make it even more special & memorable by having me create a Custom Themed Painting for your party that everyone will create and keep. Plus, we'll have a blast doing it. Talk about a great Party Favor!
I can also come into Nursing Homes, Day Cares, Home School Groups or Companies and design Painting and/or activities that will inspire, unite and teach everyone while having a great time.
Prices:
2 hour everyone creates same painting $30 a person
4 hour everyone creates same painting $60 a person
Materials are included
Murals:
Looking to Custom Decorate a Room.
Do you have a wall, space or furniture that you want to be transformed with a custom made painting.
Contact me and we'll design it together.
My rate is $20 an hour. The final cost depends on the simplicity or complexity of the design.
Here is my contact information:
Maggie Weakley
cell: 352-615-4629
email: callmaggie@yahoo.com
 Call Me!!!
show