Hi! I'm Maggie Weakley and I want to share the journey and what inspired me to create Maggie's Angels.
I've always had a love for animals, it started early on and it has been a consistent thread throughout my life. As a child, I was always drawing animals on anything I could find, specially during school, almost every notebook had some kind of animal drawing on it. The art of Walt Disney, his drive, and his imagination made a huge impression on me. I read everything I could to learn about his life. I practiced drawing the Disney characters and was even inspired to write stories creating my own characters, usually animals, to go with them. I always thought that someday I would work as an animator for The Walt Disney Studios, but as I grew older I realized that animation was not for me. Even though I did not pursue animation, I do think that Maggie's Angels has some of that animated emotional feel that Walt Disney Studios brought to all the characters they have.
When I graduated in 1984 from Bishop Moore High School in Orlando Fl., I though I wanted to be a Marine Biologist. I love all the ocean animals and for me it was a joy to learn about them. I could see myself working at Sea World, training Shamu or the Dolphins do spectacular things and being around them 24/7. In High School, I still drew on all my papers, and I did take a drawing class my Senior year, but I felt discouraged because I thought that my classmates had more talent than I had and they were younger than me. Some of the kids in the class were taking a group lesson from a woman in Winter Park, and I'll never forget her name, Barbara Bassett, they all encouraged me to take her class. I was nervous when I called her and she said she had to interview me first to see if I could be in her class. I was mortified, but apparently I did well enough to get in that summer. I really felt intimidated in this class of really talented kids, but I worked twice as hard as everyone else to prove to myself that I was worthy to be there. It was time to start College, and I was accepted to University of Central Florida, I was majoring in Biology, with a sub major in Business, but I decided to take a Figure Drawing class too. I thought why not, it will be fun, but I never suspected that the combination of Ms. Bassett and this Figure Drawing class would change my stars. I was in at UCF, for the second year when everything changed.
I come from a traditional Spanish family, were the women in the family leave their parent's home when they get married. At least that's how it was until me. My father is a Doctor and so was his dad, and my mom was a great homemaker. Art was a hobby not a career at least in their eyes. I know they were proud of the artwork  I was doing, but I don't think it ever crossed their minds that I would want to make this my career. Well, one afternoon, in Ms. Bassett's class all the kids were getting their portfolios ready to send out to all the Art schools. I'm watching the excitement of it all, and with a bit of jealousy I thought to myself, I would love to send out my portfolio too, but was I ready? That was the moment that would change my life forever. I gathered all my courage and went up to Ms. Bassett and asked her "Do you think I could apply to art school?" and she responded with a smile "I thought you would never ask!" She said that I could have applied last year, but I had to believe I was ready. My heart sank, and then a scary thought came into my mind, How was I going to persuade my parents to let me go? I figured I would work really hard and get my portfolio together and send it out and see if I would even be accepted to any of the art schools and then I would tell them. I continued studying hard at UCF even making the Honor Roll each of the semesters. Then "the letters" arrived. I applied to Rhode Island School of Design, The School of Visual Arts, and Columbus College of Art and Design. I was accepted to all 3 schools, but CCAD in Columbus Ohio, offered me a scholarship, I about fainted! Now, how do I tell my parents? I took a deep breath  and we all sat down at the dinner table and as you might suspect they were shocked when I explained everything and that I wanted to go to CCAD in Columbus Ohio. My dad's biggest concern was "What are you going to do with an Art Degree?" and I pointed out to him that art is all around us. It is in the pictures we hang, in the chairs we sit, in the house we live, art is everywhere. I know this was really hard for them, specially for my mom, to have their daughter go off to a distant land without them there to keep her safe, but they did let me go and they helped with all my finances. My Scholarship helped and I worked for my expenses, but they supported me 100% and I am still thankful to this day, because if it wasn't for their sacrifice not only financial but emotional support I would not have the career I have today. I feel very blessed to have them as my parents!
When I was in CCAD and I had saved a little money the first thing I did was to buy my first dog, a Westie (West Highland Terrier) I named Perry. I graduated from CCAD with a BFA in Illustration, and became an Art Director for Shoebox Greetings at Hallmark Cards Inc., in Kansas City, Missouri. I was in charge for the Everyday Line, which included Birthday, Friendship and Special Occasions. When I was working there, I decided it was time to get a big dog for protection. That's when Fe (pronounced Fay), a white German Shepherd, came into my life. Life was great with Perry & Fe, we went everywhere together.  I worked at Shoebox for 3 years developing the line and learning all about the industry, but I knew this would not be my permanent career. I married my best friend from CCAD in 1993, and moved back to Columbus Ohio and became a Freelance Artist, working for other Greeting Card Companies, and also working for my husband's company Blue Sky Graphic Communication, Inc. as an Illustrator.
Perry and Fe were the two greatest companions that anyone could ever dream of. Perry passed away in 2002, at the age of 14. It's hard to think of him without my eyes watering, I still miss him very much. Fe passed away in February 2005, she was 2 months shy of turning 15 years old. It was the hardest day of my life. I am grateful they both lived such long and great lives. They were with me through my college years, my first job, my wedding, my becoming a mother, and all the different places we lived. They were with me all the time, even on vacations. They even helped me raise "Carter" a Guide Dog I raised forSoutheastern Guide Dogs, Inc.
We moved to Ocala in 1998, it was an exciting and scary time because we didn't know if we could make our businesses work here. At first it was tough and work was slow, but we soon became established and it has all worked out. We love Ocala, everything about it, the people, the environment, it is a wonderful place to live and raise a family. My husband Kent, my two sons Lucas and Max, my horse Luna, my two Pygmy-Nigerian goats named Lightning and Trixie, my son's Albino Parakeet Dove, Kent's Australian Shepherd Sky, and my little Westie Angel  and a Chihuahua named Mio, fill our farm full of joy.
I was still Freelancing and doing all different kinds of artwork. My style of drawing was all over the place and I knew I had to find a Style of Art that would identify me, so that people could recognize a Maggie Weakley painting. In 2000 I came up with the idea of Maggie's Angels. I wrote it all out in a notebook. Every detail was carefully planned and it wasn't until 2005, when The Marion Cultural Alliance had a local art show called"Bark About Art" that the next huge moment in my life would happen. I am one of those people that needs a deadline, the more pressure and stress I have the better art I create, and even though I had written out my whole Maggie's Angels plan, I had not yet done a single painting. The woman that was chairing the event asked me if I would paint her dog Holly a little Chihuahua, and the painting would be used for all the promotional items, like posters billboards, etc. I took that opportunity and created 3 "Holly" paintings,Holly Red, Holly Blue, and Holly Green. As soon as I created "Holly Blue," I knew that is what my style  was going to be. I had 2 months to create artwork for the show. I ended up having 35 paintings that looked terrific together. Bright, happy and really animated these dogs drew all kinds of people to my booth and the show was a huge success, A few months later the local magazine, Ocala Style, did a story about me and published it in the January 2006 issue and put my Bulldog on the cover. That was the next turning point. It was received so well that the phone calls started coming and I became swamped with Commissions. I have really been blessed because I am not only doing what I love, but the people I have met through my work are just wonderful. 
On July 8, 2014 I started working part time for Fine Arts For Ocala, FAFO. They are a Non-For Profit organization that puts on 2 events a year, the Symphony Under The Stars, on Mother's Day and the Ocala Arts Festival on the 4th weekend in October. These are huge events and I feel honored to be the Administrative Coordinator for FAFO. FAFO.org
Even though I have a job outside my home, I continue  my freelance career creating the pet portraits that make up most of Maggie's Angels. I am also currently working on a variety of other paintings with different themes, such as Angels, a variety of  Illustrations and a goal I've always have had is to write and illustrate Children's books. So stay tuned to see where that all leads me 🙂
Thanks for visiting my colorful world.
Hope you stop often!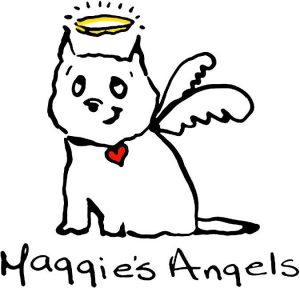 show