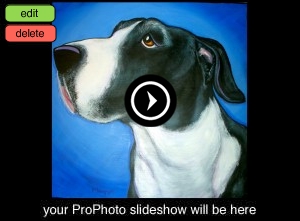 Here is a Portrait of Lucy a very sweet Great Dane that I had the honor of painting. My client told me wonderful stories about her beloved Lucy and that is how I was able to capture her sweet nature. Lucy recently passed and it is such a comfort to my client to have her beautiful face smiling back at her.
It is in the stories you tell me about your furry kids that ignite my imagination to paint your pet how you see them. I'll draw 3 sketches for you and then you get to decide which one is the one you love the most, then I begin the painting.
My standard sizes are an  8″x8″ acrylic on wood portrait is  $210.00, the 12″x12″ is $420.00 each, with each portraits you receive a set of 5 Bookmarks from my collection. If you would like to have larger paintings done with multiple pets please contact me at callmaggie@yahoo.com and we will work out the details. Thank You!
For more detail information please click on this link: http://www.maggiesangels.com/MaggiePages/MAcommission.html
This Link shows you the photos and the finished Portrait of some of the beautiful Pets I have done: http://www.maggiesangels.com/MaggiePages/MAcommissionGallery.html
You can see the video of how I created this painting here
http://www.youtube.com/user/callmaggie#p/u/17/0BliJFGll2w