Hi Everyone. I decided to place these three large original paintings for sale exclusively on my Blog. If you are interested in purchasing them send me at email at
c

allmaggie@yahoo.com

and I will send you more photos and all the details.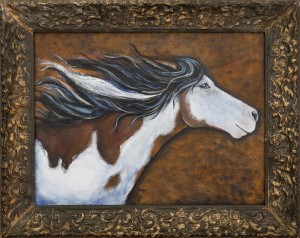 "Golden Luna" is 24″x 30″ it is painted on wood board. I created the background which resembles rough leather. This Overo Paint horse has touches of Gold acrylic paint highlighting pieces of his mane and throughout the painting.
I restored this old antique frame by filling in the cracks and dry brushing the details with Gold  acrylics. This photo does not do it justice. This painting is rich in color, texture and feel.
"Valentino"  is 24″ x 48″. It is a very tall  and skinny painting, perfect for a narrow wall. He is a sweet colt that will make you fall in love with him as you stare into his eyes. The negative space above this relaxed thoroughbred will capture your attention and you will draw you to him as you will want to sit with him for a while.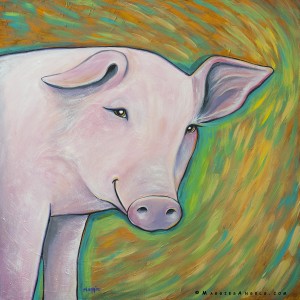 "Love that Pig" is 30″ square. A dynamic background sets off this sweet pink pig that you are sure to love.  There are many textures throughout this very large painting complimenting that sweet stare and big smile of this very fine Pig.
Hope you enjoy them be sure to leave a comment would love to hear what you think