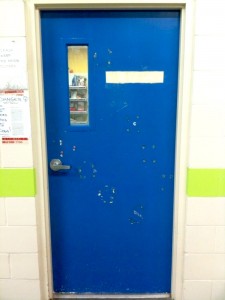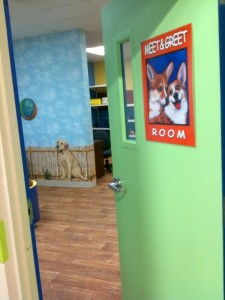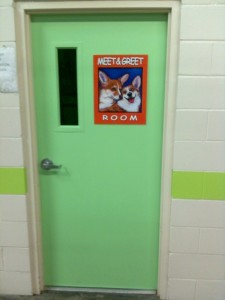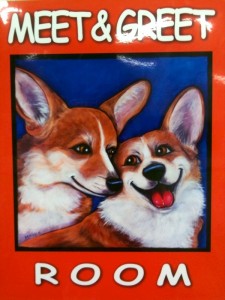 While I was painting the "Kitty Tree" (Previous Post) at the Humane Society, the director, Bruce, asked if I could paint the words "Meet & Greet Room" on the door of the room where once a person chooses a dog they might like to adopt, they bring them in there to play with and hopefully adopt.
The door was in such bad shape that I decided to strip it, and start over. I had this Lime Green Paint which I think goes pretty well with the green stripe in the hallway, I gave it three coats and its as good as new.
Then thinking about how I was going to put the words on the door I thought off the "Albert & Vicky" Portrait I had done. I think they look like they are greeting each other, the colors worked well with the color scheme of the room, and its perfect for the room where potential people meet their soon to be pets.
My Husband, Kent,  being the brilliant designer he is, put the whole image together in a very fun design. I had the poster laminated and we added Velcro tape to stick it on the door so when it starts looking bad we can pull it off and make a new piece without any damage to the door, pretty smart right, my husband came up with that idea as well, like I said brilliant!
I hope these two happy Corgis will greet everyone that comes into this very fun room. Let me know what you think  ;)