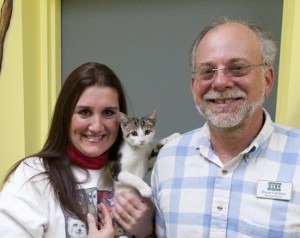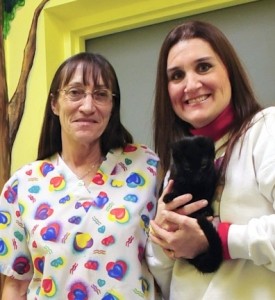 On January 16th my friend Jen introduced me to Bruce Fishalow the Executive Director of the
Humane Society in Marion Count

y
. I've been wanting to do something for the them since I started
Maggie's Angels
and for one reason or another nothing ever developed. Timing is everything.
Upon meeting Bruce, he gave me a tour and showed me all the renovations they've done, and they were particularly proud of the new
cat rooms
. Bruce had this idea of painting a tree in the corner of the kitten room and it just happens that I could do that for him, timing!
We talked about what he wanted to do and the vision was clear, he wanted the kitten room to be warm and fun so the kittens and the people coming in to adopt them would feel at home. That is also the mission of Lyn Beurrier, the cat specialist at the center who has an enormous heart and wants all her kitties to be happy and find loving homes.
Bruce and Lyn along with everyone who works and volunteers at the
Humane Society
love these animals and really want them to thrive so when you come in to adopt one of them you also feel the warmth that surrounds this place.
I've become fast friends with these two fabulous hard working animal lovers and I've caught the enthusiasm they have to make this No Kill shelter succeed. I spent two full days painting this mural. I'd come in on Wednesdays, the only day the center is closed to the public, and painted a giant tree with kittens playing in it with a few butterflies fluttering by. I also added some framed
Maggie's Angels Cat
portrait
prints on the other walls to bring some more happy kitties into the room.
Everyone seems to love it and are so thankful, but it is I who am thankful when I see what these lovely people do on a daily basis for all these animals. I have so much respect for them in how they take care of all these animals, some of them in really bad shape, and heal them not only physically but mentally and spiritually.
Everytime I have shared my talent and volunteer I am always rewarded in so many different ways. I'll be back next Wednesday to paint some more, and I have a feeling that I'll keep going back and doing more projects for them.
Here is a short video of "The Tree"
httpv://www.youtube.com/user/callmaggie?feature=mhum#p/u/7/fSkh0hm_IKM